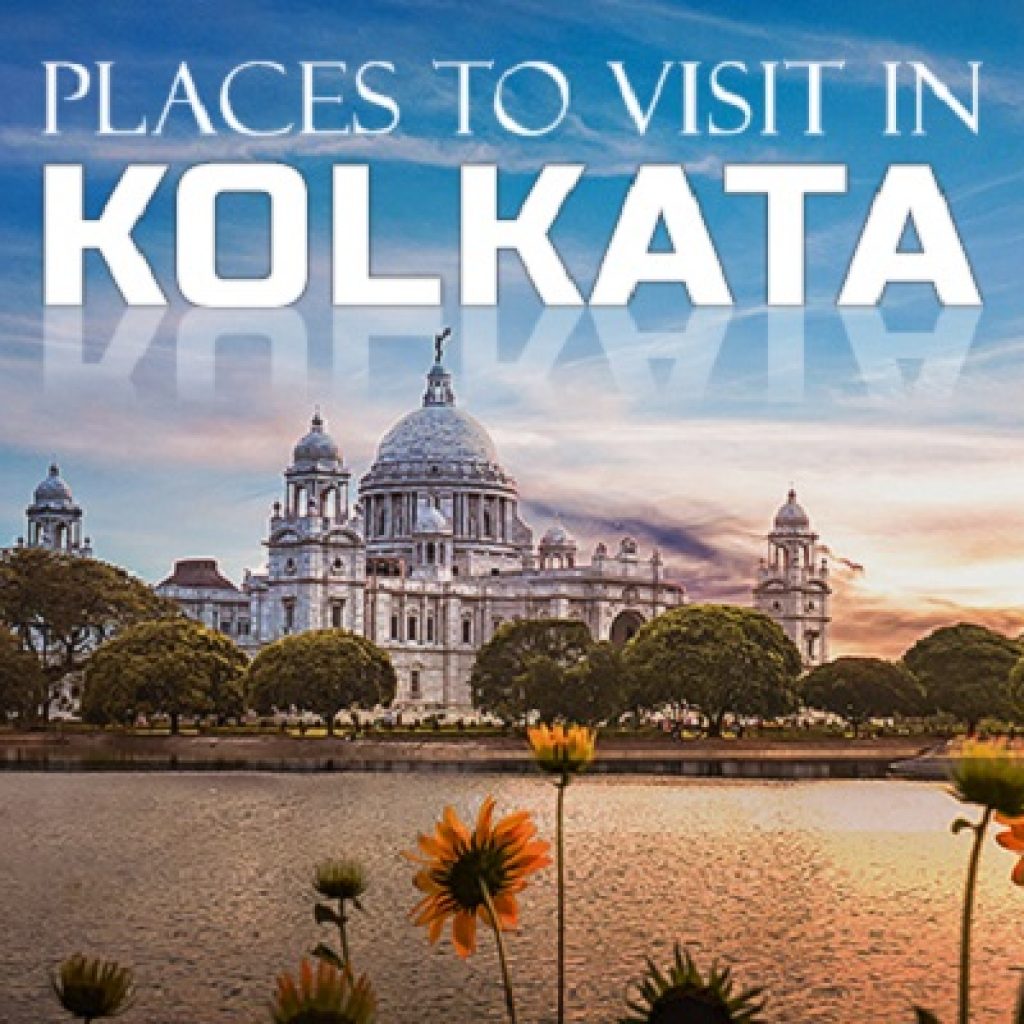 The City of Joy or Kolkata offers you with innumerable opportunities to explore. The city is a hub of exciting and spell-binding locations that have been attracting tourists from different corners of the world since time immemorial. It is a well-balanced point of charm and chaos. It offers you great versatility ranging from the busy market at Zakaria Street to a tranquil evening by the Ganges. Kolkata is highly renowned for its street food and the marvellous aesthetics. The festivals are celebrated with grandeur and enthusiasm where people of different communities unite.  If you are planning on visiting the city, the following sites must not be skipped.
We have listed down top 20 Best spectacular places to visit in Kolkata as follows.
Victoria Memorial
The renowned white monument built in the memory of Queen Victoria between 1906 and 1921, is the most visited site in Kolkata for obvious reasons. It now serves as a museum that exhibits multiple artefacts, paintings and manuscripts that date back to the colonial period in History. The infrastructure, the light and sound show and charm is enough to persuade tourists to visit the place.
Location: Jawaharlal Nehru Road, Kolkata, West Bengal.
2. South Park Street Cemetery
Established in 1767, the cemetery was founded by the British and provides a clear glimpse of the architectural trends of the time it was built in. The place offers a peaceful environment and picturesque beauty. If you are fond of adventure with a touch of spooky thrill, this place is ideal for your interests.
Location: Mallik Bazaar, Park Street, Kolkata, West Bengal.
3. New Market
The busy market located in S.N. Banerjee Road (near Esplanade), is an active market that sells all kinds of items ranging from clothes and accessories to delicious and budget friendly street food. The streets of New Market are flooded with hawkers and merchants who offer you a wide range of commodities at affordable prices. If you are looking for gifts for your loved ones, New Market is the ideal destination that you must visit while in Kolkata.
Location: SN Banerjee Road, Kolkata, West Bengal.
4. Dakshineshwar Temple
The marvellous temple in Dakshineshwar is dedicated to Goddess Bhavatarani, an incarnation of Goddess Kali, the 'Saviour of the Universe'. It is one of the most ancient and prominent temples in India that witnesses a great number of tourists from different corners of the world every year. Historically, it is believed that the temple was built by Rani Rashmoni who had a vision while she was travelling to Varanasi after her husband's demise. The temple and Belur Math, is a popular place of visit and is renowned for being the Ashram of Swami Vivekananda.
Location: Dakshineshwar, Kolkata, West Bengali.
5. Princes Ghats
If you are looking for some tranquility amidst the busy city life, Princes Ghat is the ideal place for you. You might want to visit this place with company or alone and enjoy the scenic beauty on the banks of the Hooghly river while sipping a cup of tea. It was built in 1841 in memory of the British scholar, James Princes. The site is popular among tourists who enjoy a peaceful environment while travelling.
Location: Hastings, Kolkata, West Bengal
6. The National Library
It is known to be India's largest library in terms of public record and volume. It was established in 1836 as Calcutta Public library it had undergone several changes and finally came to be known as The National library in 1953. The National Library is a government undertaking that is a hub of knowledge. It consists of thousands of books on different topics and has an excellent architectural significance. It dates back to the time of the British Raj and serves as a heritage site.
Location: Belvedere Estate, Alipore, Kolkata, West Bengal
7. College Street
This 900 meter long street in Central Kolkata is a hub of knowledge. Deriving its name from the multiple colleges located in the area, College Street has an impressive number of book stalls selling books in different genres, from academic to fiction at affordable prices. The infamous Coffee House is located in this area. Thus, the area has great intellectual significance in the country. Moreover, you do not need to be an avid reader to visit this incredible point of knowledge.
Location: Near BB Ganguli Street, Central Kolkata, West Bengal
8. China Town
It is known to be the only Chinatown in the country. The place is mostly dominated by the Chinese residents of the city and is highly popular for its Asian delicacies. The hawkers in China Town, The Chinese sellers offer versatility in terms of Chinese cuisines starting from momos to meatball soups. If you are looking for delicious and pocket-friendly appetizers, China Town is the best place for you to visit. Main courses offered are mouth-watering and the street has a number of Chinese restaurants that might serve your taste buds well.
Location: Matheswartala Road, Tangra, Kolkata, West Bengal.
9. Rabindra Sarovar Lake
Previously known as the Dhakuria Lake, Rabindra Sarovar Lake is an artificial lake in South Kolkata that provides the tourists with a number of recreational opportunities. If you are looking for a place that offers charismatic view, gentle breeze and a calm environment, you must consider this site. It is a huge artificial freshwater lake that offers recreation and peace. The place is amazingly photogenic so you might want to capture some snapshots of yourself or your company!
Location: Dhakuria, South Kolkata, West Bengal
10. Alipore Zoological Garden
This site is one of the most popular tourists' attractions. If you are travelling with kids, this place is a mandatory visit. This zoological garden established in 1875 in Alipore is a shelter to 108 species of animals that are 1265 in number. It is an excellent site of informative recreation. If you have a flair for the wildlife, you must visit this zoological garden and have a look at the varied species of birds and animals. Every year, one can spot innumerable migratory birds during winter.
Location: Alipore Road, Kolkata, West Bengal
11. MP Birla Planetorium
The Birla Planetorium located in the heart of the city is a single-storeyed designed in dome-like architectural plan, is a popular place amidst tourists who are Science and space fanatics. While travelling with kids, this place will suit your purpose well. Inaugurated in 1963, the planetarium conducts several shows throughout the day in different languages. It also has a electronics laboratory and fabricates scientific equipments.
Location: Jawaharlal Nehru Road, Near Maidan, Kolkata, West Bengal
12. Jorasanko Thakurbari
Popularly known as Thakurbari, this place has a great historic and cultural significance. It was the residence of the infamous poet and noble laureate, Rabindranath Tagore. It was the hub of several cultural and political institutions like Adi Bramho Samaj, Kalikata Haribhakti Pradayani Sabha and the Minerva Library. This marvellous and massive Rajbari has an appreciable architectural design and a provision for exploration. Thus, if you have a flair for art and culture, Jorasanko Thakurbari shall not be skipped. The place has a number of artefacts and notable works of Kobiguru.
Location: Girish Park, Kolkata, West Bengal
13. Eden Gardens
The Eden Gardens located in BBD Bagh, is a popular cricket ground. If you are a sports enthusiast, you must witness at least one match in Eden Gardens while you are in Kolkata. It was established in 1864 during the British Raj and has a capacity to hold 80,000 spectators. It was the first officially built cricket ground in India and is often referred to as the 'Mecca of Indian Cricket'. In 1987, it was the second stadium to host the World Cup Finals. Therefore, the Eden Gardens should be added to your list while exploring the city.
Location: Maidan, BBD Bagh, Kolkata, West Bengal
14. Indian Museum
This museum located in Kolkata is the ninth oldest museum in the world and the oldest and the largest museum in the subcontinent. It has six sections and thirty-five galleries that display scientific and cultural artefacts. It exhibits multiple artefacts of significance like Indian History, archaeology, zoology, anthropology, geology and even an economic library. It is an autonomous museum under the Ministry of Culture which in turn is an undertaking by the Government of India. The Indian Museum is a culmination point of thrill and knowledge. If you want to take an in-depth look into the scientific and cultural evolution of the country to its present form, you shall visit this place while you are in Kolkata.
Location: Jawaharlal Nehru Road, Park Street, Kolkata, West Bengal
15. Fort William
The infamous grounds of Fort William in Kolkata were built in the initial years of Bengal Presidency under the British Rule. It was built upon the Eastern side of the River Hooghly, a tributary of the Ganges and is considered to be one of the greatest edifices of the British Raj that extends up to 71 hectares. This site was named after King William III and served as a significant official site before the independence of the country. The Fort is shaped as an irregular octagon with a design to prevent it from solid firing. It has six gates and is popular for its advanced infrastructure.
Location: Hastings, Kolkata, West Bengal
16. St. Paul's Cathedral
The St. Paul's Cathedral in Kolkata was built between 1839 and 1847 and is one of the largest cathedrals in the country and was the first Anglican Cathedral in Asia. It has an 'Indo-Gothic' architectural design that complements the humid Indian climate. The interior displays multiple designs and artefacts and it also has a library situated on the Western porch. The spire is 61 meters in height and it belongs to the architecture type of the Aisleless Church. Thus, this place of worship serves a great deal of heritage of the city.
Location:  Cathedral Road, Chowranghee, Kolkata, West Bengal
17. Eco Park
The Eco Park in New Town is an extended part of the Biswa Bangla Sarani and is a great hub of adventure, recreation and thrill. The area of the land extends up to 480 acres and is surrounded by water bodies that measure up to 104 acres. It has a provision of multiple activities and water sports like boating. It has a replica of the Seven Wonders of the World including the Eiffel Tower and the Great Pyramid of Giza. The area is quiet refreshing and has several plant species that are taken care of by the team. Thus, it is a must-visit spot if you are travelling with kids or for recreational purposes.
Location: New Town, Kolkata, West Bengal.
18. Nakhoda Masjid
This mosque was built as a replica of the mausoleum of the Mughal Emperor, Akbar at Sikhender, Agra in Delhi in 1926. The major attraction feature of this mosque is its coherent design and architectural relevance. The prayer hall has a capacity to hold 10,000 worshippers. It has three domes and two minarets that measure about 110 ft. The gateway is an imitation of the Buland Darwaza at Fatehpur Sikri. In other words, it offers a detailed insight to medieval architecture.
Location:  Burra bazar, Kolkata, West Bengal
19. Kumortuli
Kumortuli in Northern Kolkata is a popular potters' quarter. It is an infamous site in India that is renowned for its sculpting trade. Most of the mud sculptures are supplied all over the city by Kumortuli potters. The ideal time to visit this spot is however, late September or early October, before the beginning of the festival of Durga Puja.
Location: Shobhabazar, Kolkata, West Bengal
20. Science City
The Science city in Kolkata was formed in 1997 and has several halls that add to different kinds of thrill and adventure. You need not be a science enthusiast to enjoy the shows and games offered by this exciting site. It hosts a number of shows throughout the day in its dynamotion hall, earth and space exploration ghall and even has a provision for the maritime centre. Overall, it is an exciting spot to visit when you step into the city.
Location: East Topsia, Kolkata, West Bengal